Payment & Security
Your payment information is processed securely. We do not store credit card details nor have access to your credit card information.
Description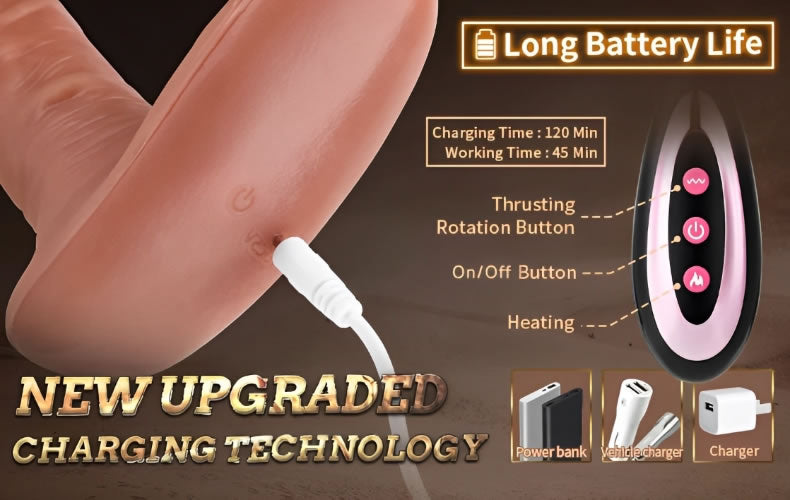 Features:
Dual motors massage prostate extruding anus rubbing perineum 3 IN 1.
Small silicone dildo slide in easily without hurting you.
10 vibrating 5 thrusting and 15M remote control, command him like a king.
100.4°F heating in 2.5 minutes ignite your passion deep inside.
IPX5 Waterproof let you enjoy the bathroom carnival.
Description:
Are you tired of general anal vibrator and craving for life-like penis penetrate you? Our dildo can meet your requirements! Silicone, small size and life-like skin touch, he can easily penetrate your anus without hurting you. 10 Vibrating 5 Thrusting assist he immerses his whole body into you to massage your prostate giving you a 10-minute ejaculation-free orgasm and rubs your perineum with the bottom motor, simultaneously. IPX5 waterproof, you can rest assured to enjoy the erotic carnival in the bathroom, 15M remote control can help you unlock more fun games.
Specifications:
Features: 10 Vibrating, 5 Thrusting, 100.4°F Heating, IPX5 Waterproof
Function: Vibrating, Thrusting, Heating
Color: Nude
Material: Silicone, ABS
Waterproof: IPX5
Mute: <60 dB
Power Type: USB Charging
Charging Time: 120 mins
Run Time: 45 mins
Size: 5.71*1.38 in
Weight: 0.72 lbs
Insertable Length: 4.53 in
Insertable Diameter: 1.38 in
Package included:
Vibrator x 1, Charging cable x 1, Remote control x 1, Manual x 1
SHIPPING:
Free Flat Rate Shipping on orders over US$59.00
Shipped within 1-3 business days. Usually received within 3-10 business days.
Contact us immediately for any product questions
Once your order is shipped, you will receive an email from us. In this email, there is the tracking information for your packages as well as the website in which you can trace your order at. Tracking information is also available in your Order Details page.
Returns & Exchanges

We are profoundly sorry if you are not satisfied with the product(s) after receiving it. We would like to return and replace the product(s) within 30 days from the date of purchase, provided that the product(s) has not been opened.That have been opened can not be returned.

Please email our customer service representatives to explain in detail the reason why you want to return the product(s),
After receiving our returning instructions, please send the product(s) in intact,
The refund will be processed within 5 business days of receipt of your package.
Once the refund is issued, you will receive a confirmation email.